Welcome To The Croatian Cultural Centre
---
The Croatian Cultural Centre in Vancouver, British Columbia, Canada and is owned and operated by the non-profit charitable society: United Croats of Canada – King Tomislav Branch The society was founded in Vancouver in 1957 by Croatian immigrants and was incorporated under the Societies Act of British Columbia in 1977.
The Croatian Cultural Centre celebrated it's grand opening in 1986 and has since then become a well respected multipurpose facility in the city of Vancouver.
---
Croatian Christmas Dinner
Let the Croatian Centre handle all the hard work so you can enjoy your Christmas Dinner. Pick up available 11am to 5pm December 24th.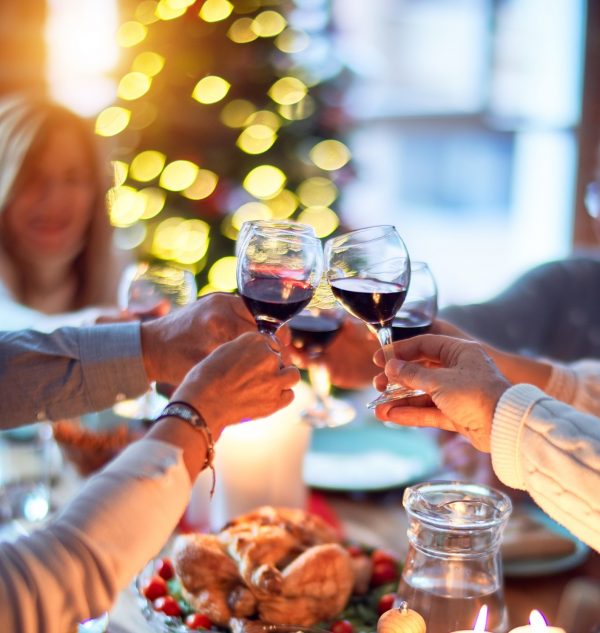 Featured Events
World Cup 2022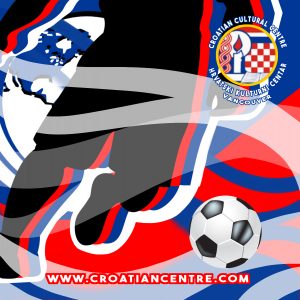 Tickets include breakfast or lunch and coffee and free parking. Hot coffee and hot breakfast. Cashless discounted drink tickets available too. Tues night/ Wed Morning party starts at midnight! DJ, Dancing, Food, and Bar before 2am game.
---
Klapa Samoana Vocal Ensemble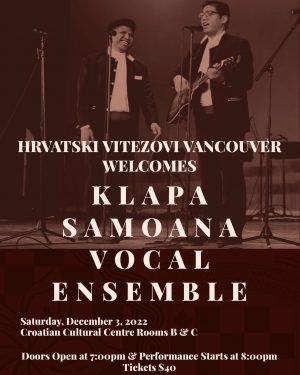 Founded in 2011, Klapa Samoana has been the forerunner in the Pacific of a genre known as Klapa singing. This particular style has its origins in Croatia and is a UNESCO intangible world heritage. It is multi-part unaccompanied singing, known particularly for its simplicity and its fluidity.Join us December 3rd and enjoy an unforgettable night!
---
New Years 2023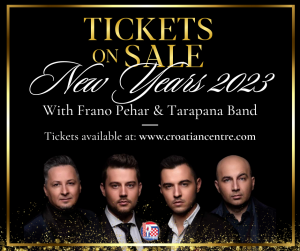 Join us in ringing in 2023 Enjoy Chef Daniel's NYE Buffet with Carving Glass of Sparkling at Midnight Late Night Snack Dancing and fun for the whole family Pick your seats or entire table*Must be purchased online*